Adjusting your Raptor's Display Using your Smartphone After the Initial Setup
If you wish to adjust the digital display after the initial setup, you can always use the Raptor app on your smartphone. Adjusting the display may be necessary to improve your experience or in cases where the display has moved (due to using a different helmet, movement of the nosepiece, etc.),
Please Note: If you are setting up your Raptor for the first time, please refer to the Pairing Your Raptor to Your Smartphone section of this user manual.
Please Note: Before continuing with these steps, make sure that you are wearing your usual bike helmet and Raptor smartglasses. Make sure that your helmet's straps are underneath your Raptor smartglasses. This is important, as putting on your helmet at a later stage may move the display out of focus.
1. Remember that Raptor' nosepiece is highly adjustable. It can be moved forward or back and side to side and that the digital display can also be placed to match anyone's comfort. This process may take some time to find your perfect setting
2. Open the Everysight app on your phone and make sure that the app is connected to your Raptor, as shown in this image. Tap on the Dashboard, and then tap Display Settings.
3. Use the directional arrows in the app to move Raptor's display up, down, left or right. Position the display so that you can see it comfortably at the center of your field of vision.
If you can't fit the complete display into your field of vision, zoom in or out by using the + or - symbols. The optimal zoom is not lower than 90%.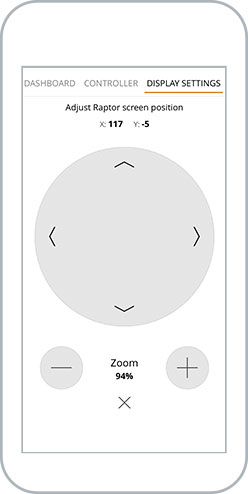 Tip: If the display won't move further in a certain direction, try zooming out and then continuing to adjust the placement of the display.