Navigation with Raptor is easy. The navigation feature allows you to find your way through an unknown territory without ever slowing down or getting lost again.
Please Note: Before going on a ride, make sure that your Raptor is fully charged. It should take about 2 hours to fully charge when the battery is depleted. To learn more about charging Raptor, please refer to the Charging Your Raptor section in this manual.
Create a Route for Your Ride (Optional)
Navigation with Raptor is easy and accurate. You can see a map of your route, utilise the navigational arc, receiving real-time navigation directions as you ride. You can also display the elevation profile of your route, allowing you to see how much of the climb is still ahead. Riding with a route, even on a road you know well, will improve your experience with your Raptor smartglasses.
To navigate using a pre-loaded route, you will need to first add it to your account on go.everysight.com and then upload it to your Raptor smartglasses.
You can create a new route on your preferred route editor, convert a previous ride to a route, or choose an existing route from thousands of exciting routes created by the Everysight community.
The steps below show you how to create a new route in your preferred route creator, export it, and import it into your Everysight account. The key to importing routes into your Everysight account is that the route file must be in either .GPX or .TCX format.
1. Login to your preferred route creating account. Create your route, and click save then Export the route. Be sure to save it as a .GPX or .TCX file.
2. Use the web browser on your computer to sign into Go.everysight.com. On the main menu, click Routes and then click the Upload Route button.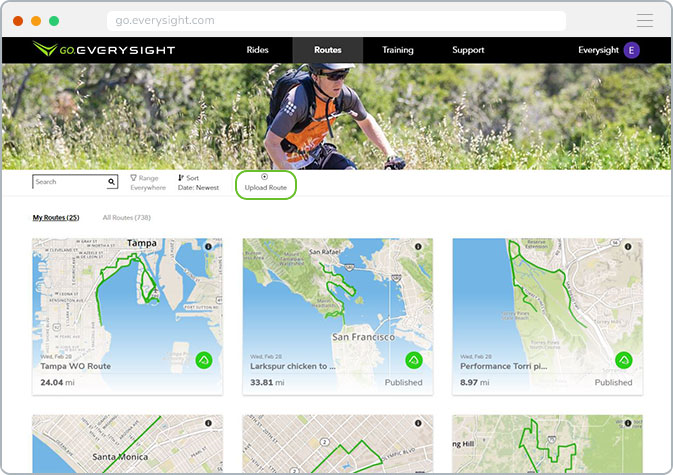 3. Choose the GPX or TCX file you exported in step 1.
The file will be private by default. Changing to Public will share the route with the Everysight community
4. You can change the route name, and then click Done to add your new route to the list of routes.
Transferring Routes to Your Raptor
Transferring Routes to Your Raptor
These steps show you how to transfer routes to your Raptor before you start a navigation ride. Any routes stored under My Routes on the go.everysight.com website are automatically synced to the Everysight app and appear under the Routes tab.
1. Open the Everysight app. Tap Routes.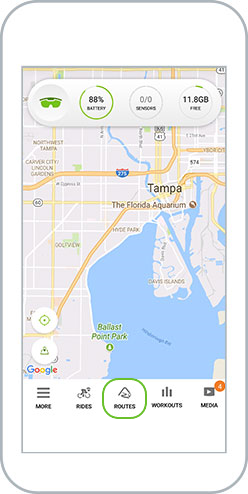 2. Find the route you wish to upload to Raptor.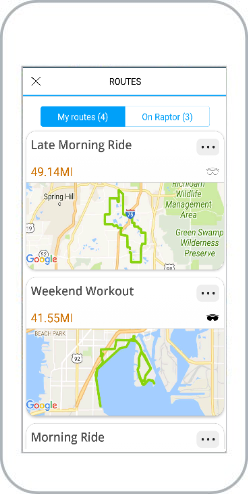 3. Be sure that your Raptor is powered on and connected to the app.
4. Tap the menu icon of the route you wish to upload.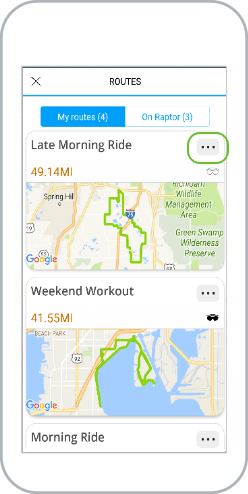 5. Tap Upload to Raptor to transfer the route to your Raptor. When the route has been transferred successfully, the Raptor icon will become filled in.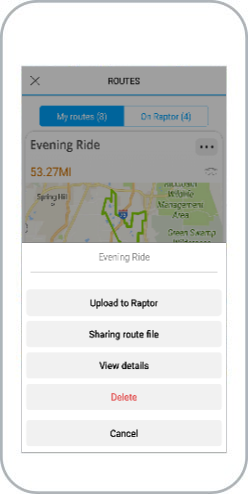 You can load Raptor with multiple routes simultaneously.
To learn more about the Navigation Ride itself, click here.
Enabling the Navigation Arc
Your Raptor can display up to six customized information and statistics screens while you are cycling that can be adjusted either using the Everysight App or via the go.everysight.com website by clicking here. Once setup, you can swipe forward to switch between them as you ride.
Each display contains 1 primary and 4 secondary display fields that can measure up to 7 different metric families, depending on the sensors connected to Raptor (Speed, Cadence, Heart Rate, Power, Distance, Elevation and Time). A field can also be left empty.
Each screen can also display the smart arc used for navigation rides and will automatically be displayed during workout rides. You can decide whether to show or hide the navigation arc on each separate screen.
Each screen can be defined as either an upper or lower layout, displaying the primary display field on top or bottom of the display. We highly recommend that you set up at least one screen with each layout in the beginning, so you can see which layout best suits you.
Online: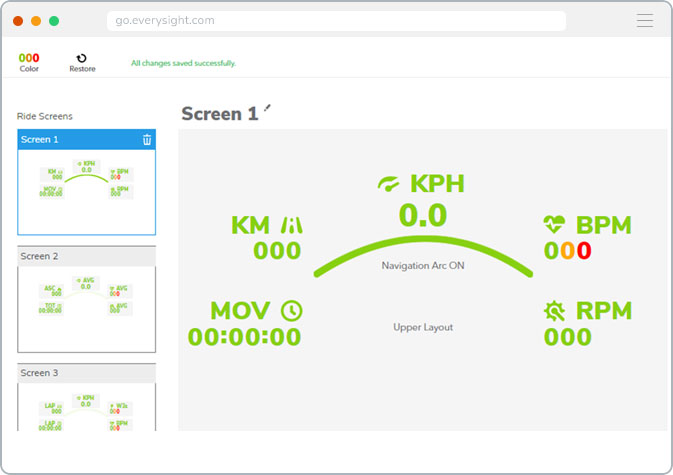 To customize the screens and fields displayed before your ride via the go.everysight.com website, follow these steps:
Go to http://go.everysight.com or click here
Sign in using the same credentials you used for the Everysight app on your smartphone.
Hover the cursor over your name.
On the dropdown menu, click Screens.
On the side of the display, you'll see all available screens. Click one of them to modify it.
To change a data field – click on it and select the data type and value from the drop down list, or choose Empty.
You can add up to 6 screens, and you can delete screens you don't want anymore.
You can reorder the screens by dragging and dropping them into position.
Click the Smart Arc to display or hide it.
Click on the layout type to choose either an upper or lower layout. An upper layout is the default.
Click on the layout type to choose either an upper or lower layout. An upper layout is the default. We recommend setting at least one of each layout to determine what is most comfortable for you (images shown below)
You can measure your distance travelled in either Miles (Imperial) or Kilometers (Metric) very easily by changing your preferences in your personal profile settings on the go.everysight.com website or via the Everysight app.
Upper: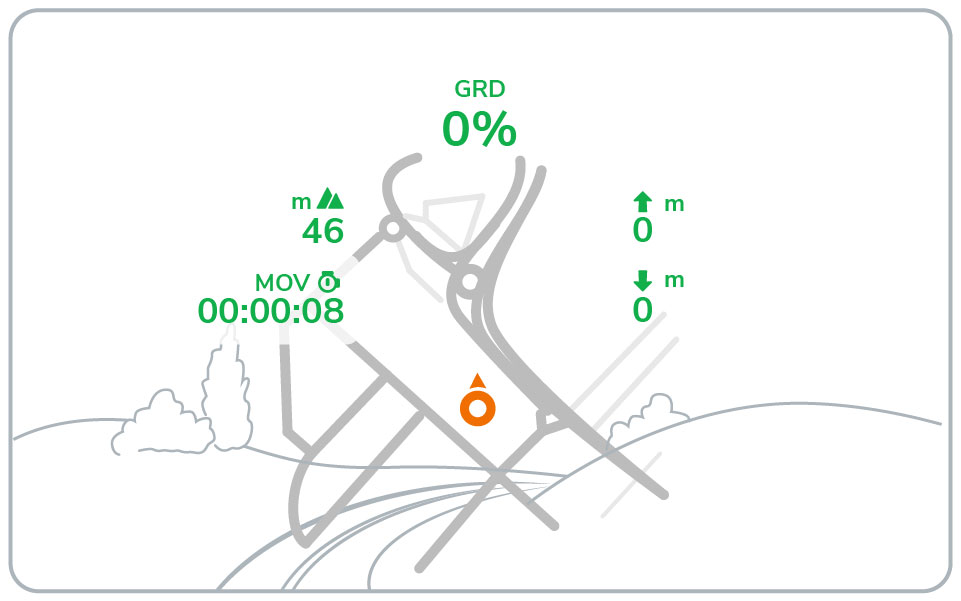 Lower: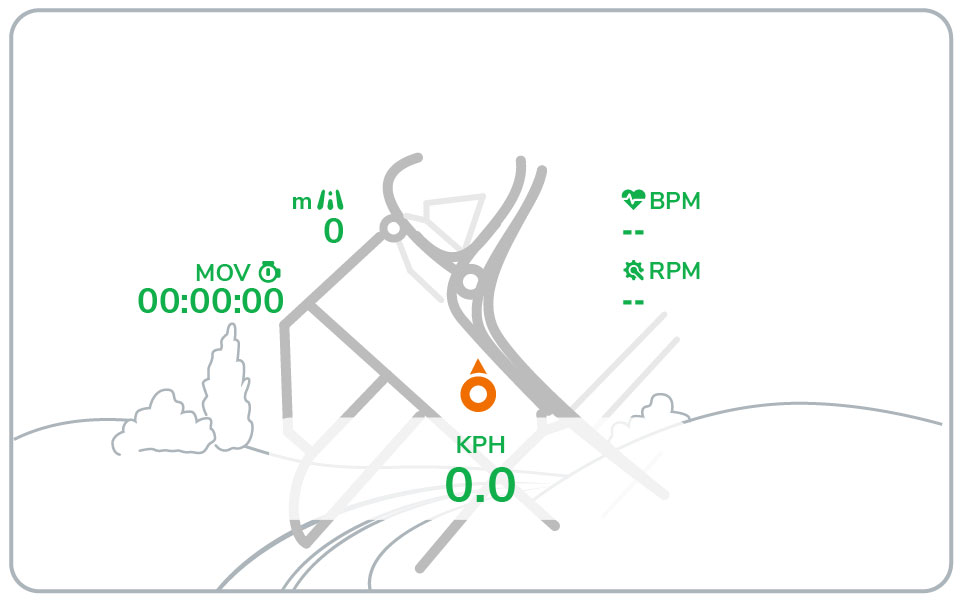 App: