You can create workouts via the go.everysight.com website, transfer them to your Raptor, and track whether you are on, under, or over target while you ride. The workouts you create are broken down into steps, so each have a function (e.g., warm up, work or cool down), and a target intensity (e.g., heart rate, power, speed, or cadence).
1. To configure training preferences, hover the cursor your name displayed in the upper-right corner of the screen and select Training Settings.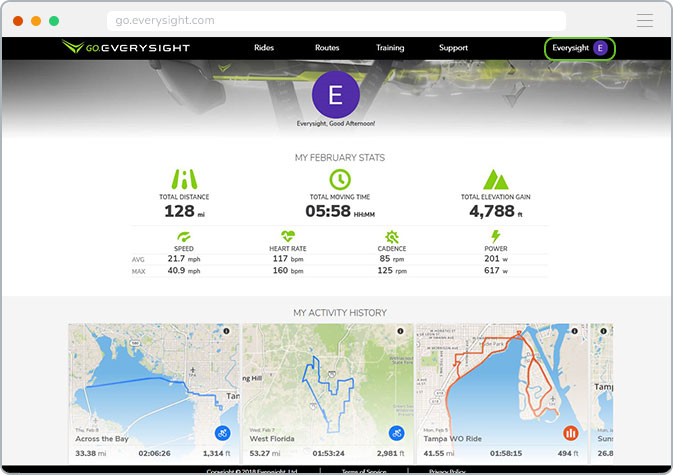 2. The Training Settings menu allows you to change the tolerance settings as displayed in the smart arc as well as the way alerts are received during your workout.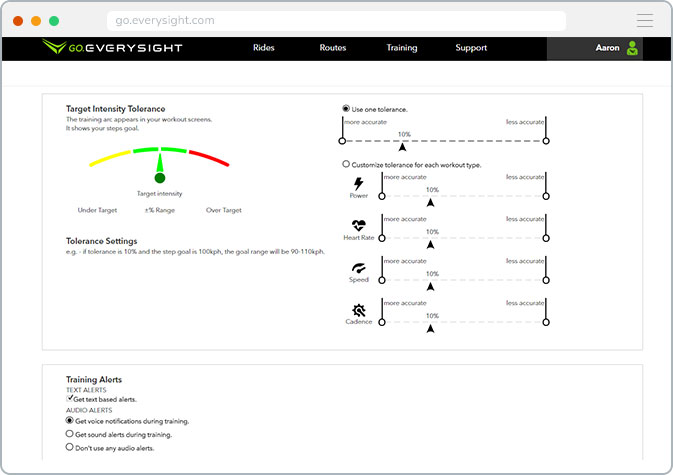 3. Click Training to view, edit, and create new workouts.
3.1. Click Add Workout to create a new workout or upload an existing workout from a file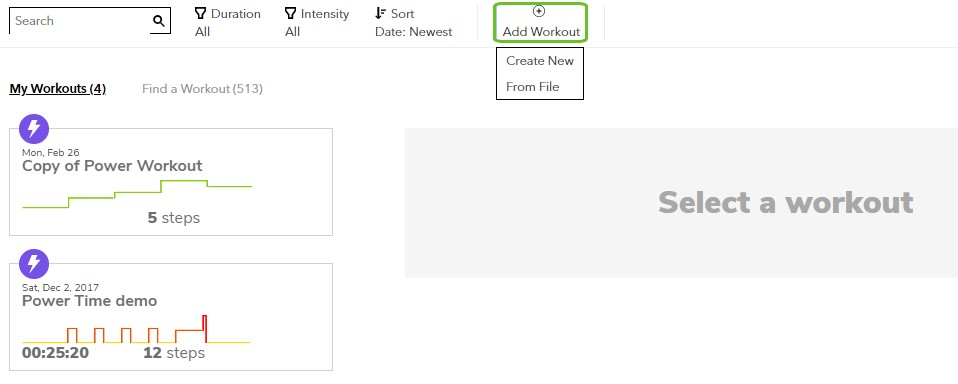 3.2. To upload an existing workout file, select the From File option and choose a *.FIT file
3.3. Click Find a Workout to see workouts from the Everysight user community, and transfer them to your workouts.
Creating a Workout
1. Log into go.everysight.com, select the Training tab.

a. Click the Add Workout button.

b. Click on Create New.

2. You can now name your workout, enter a description, choose the intensity type (power, heart rate, speed or cadence) and the duration type (time, distance or manual).

a. If you choose Manual, switch to the next step in your workout by recording a lap.

3. In the table below, you can begin to build your workout.

a. Choose the Type of step (warm up, work, rest, cool down, or other).

b. Enter the Duration of each step (if time or distance duration is selected).

c. Enter the Intensity target for the step.

d. Add any notes you wish to appear on the display when you start that step.

e. You can also choose to easily duplicate any step or delete it.

4. In addition to adding steps, you can also choose to Add an Interval.

a. Adding intervals allows you to quickly and easily add repeated interval steps to your workout.

b. You can see an example of how this works below:

5. Both steps and intervals can be easily reordered by dragging and dropping.

6. The Total Time, Distance or Number of Steps will be automatically updated while building your workout to help you keep track of the total expected length of your workout.

7. Once a valid workout has been created, a graph will automatically appear at the bottom of the page. The workout will be saved automatically and also appear in your Everysight app under Workouts.