The Everysight app on your phone allows you to control how video is cropped as well as the video recording quality.
1. Using the Everysight app on your phone, tap the Menu icon (three horizontal lines on the bottom left of the screen), and tap Settings.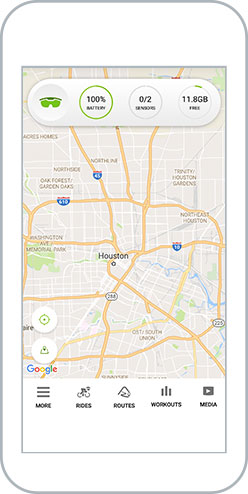 1.1. If you are using an iPhone, go to Camera Settings.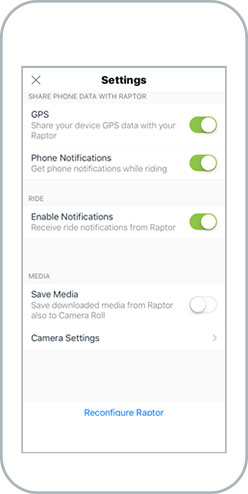 1.2. If you are using an Android phone, tap the Video tab.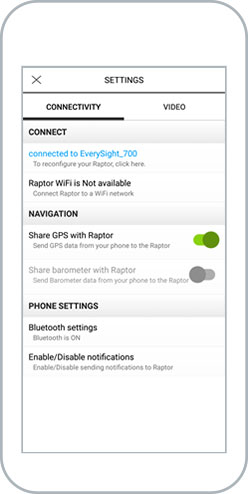 2. Video Cropping allows you to select the video mode to suit your riding position. Choose Road to have the crop from the bottom (to suit a more aerodynamic, hunched-over riding position), or Off Road to have it cropped from the top (to suit a more upright, relaxed position).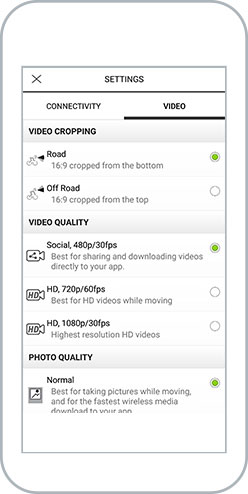 3. For Video Recording Quality, choose between 480p/30fps, 720p/60fps or 1080p/30fps. We recommend using the social 480p mode for easy sharing on social media. This mode will create videos at about 40MB per minute and automatically add your ride metrics (exactly as you set them up and view them while riding) to your video. By leaving the ride app and recording from the home screen, videos will be recorded without the ride matrices.
Choose the 720p option to capture HD videos while in motion.
4. For Photo Quality, choose either Normal (recommended for capturing pictures in motion) or Full 13.2 MP (great for capturing images while stationary).