By opting in for 1, 4 or 8 hours at a time, the 'Live Tracking' feature enables you to see other Everysight users in real-time while on Raptor while the map is displayed as well as on the Everysight companion app. This feature can be incredibly effective for meeting up with your peloton, knowing where your friends are riding, or even meeting new riding partners.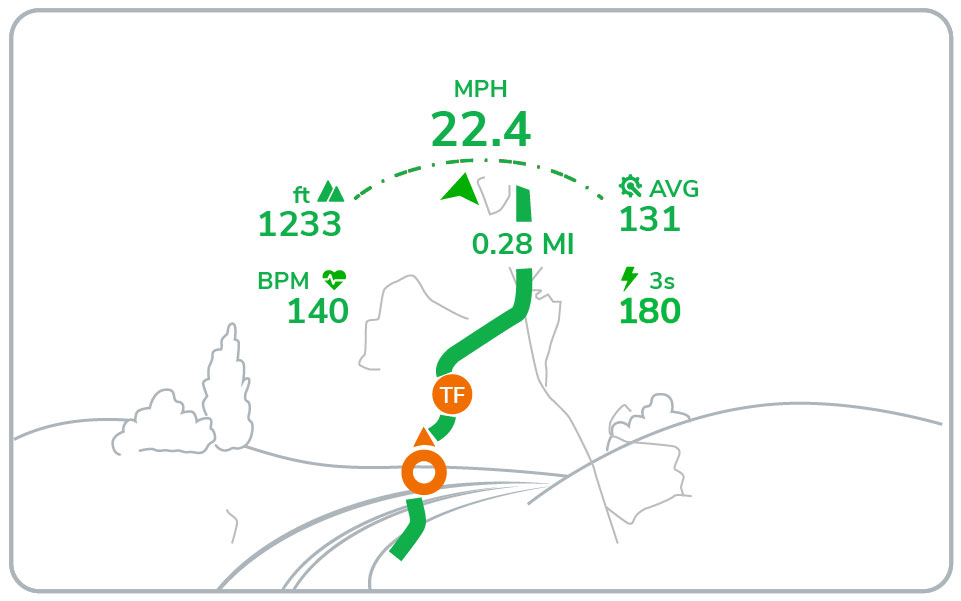 -
In order for Live Tracking to be displayed on Raptor, the following conditions must be met:
- Live Tracking mode is enabled on the Everysight app
- Raptor is connected to the Everysight app.
- Riders also using Live Tracking mode are within a 50 kilometer radius of your location.
**Live Tracking mode can also be used without Raptor via the Everysight app.
How to Activate Live Tracking Mode
1. Open the Everysight app
2. On the dashboard, tap on the icon that says "NOT SHARING"
- Live Tracking mode is off by default for your privacy and to conserve your smartphone's battery life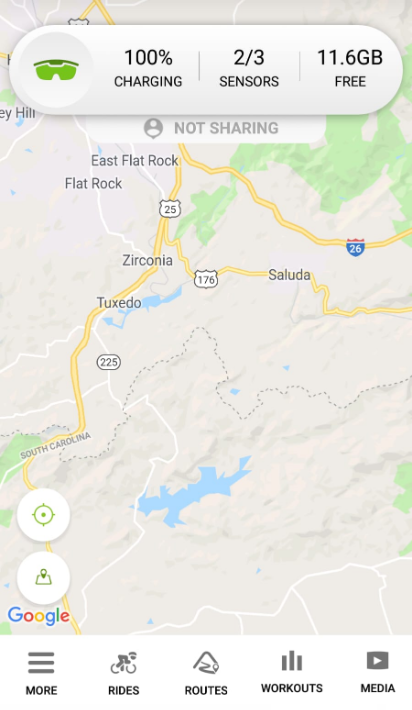 3. Select the amount of time you wish your location to be broadcasted
- You can choose 1 Hour, 4 Hours, or 8 Hours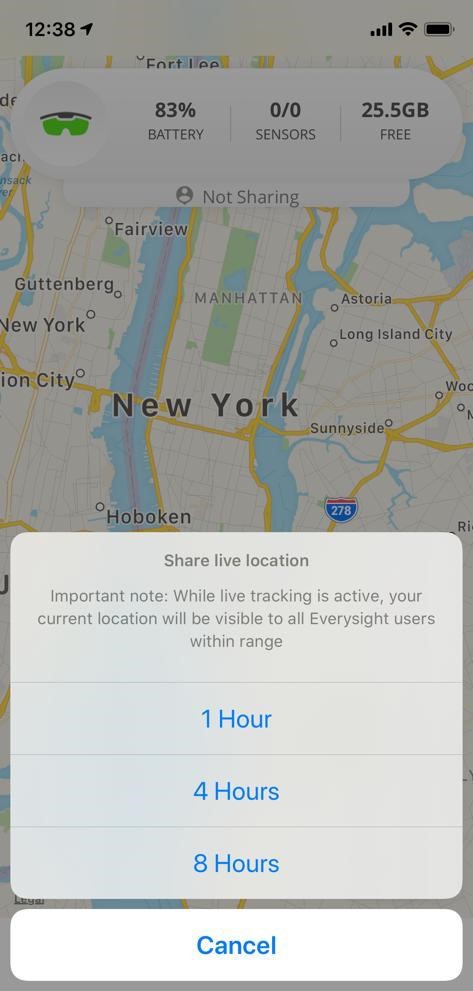 How to Deactivate Live Tracking Mode and Advanced Settings
1. Tap 'MORE' on the Everysight app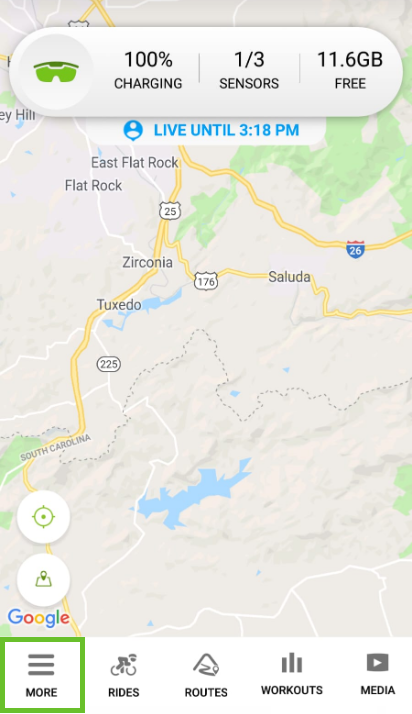 2. Go into settings
3. On Android devices - go to the 'TRACKING' tab
- Here, you can toggle 'Live Tracking' on or off
- The 'Live Tracking query interval' is adjustable refresh rate of how often the app looks for Raptor users with tracking enabled as well as the frequency your position is broadcasted
iOS -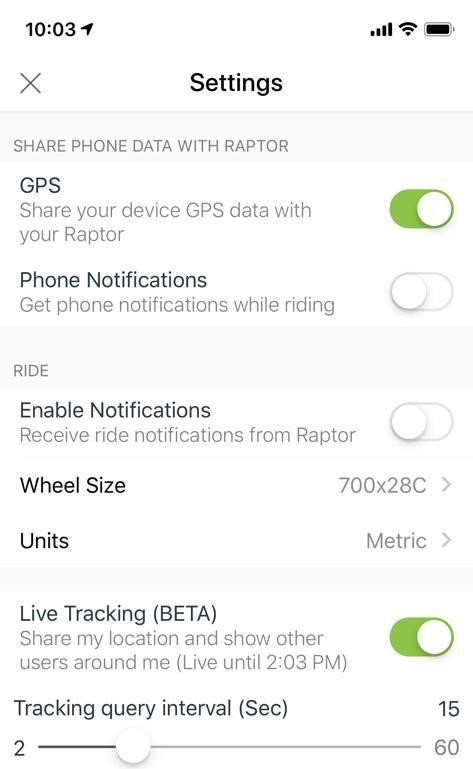 Android -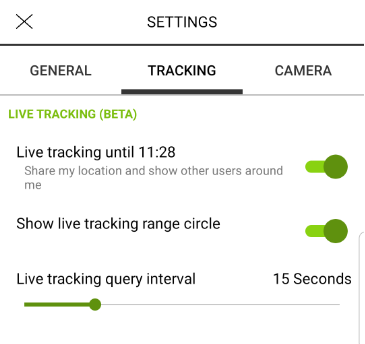 * Android Users - have the additional option to see a 'Live Tracking Range Circle' on the Everysight app the shows the entire area within the 50 kilometer radius
Tips & Tricks
You must have the map loaded and displayed on your Raptor during a ride in order to see Live Tracking on your Raptor display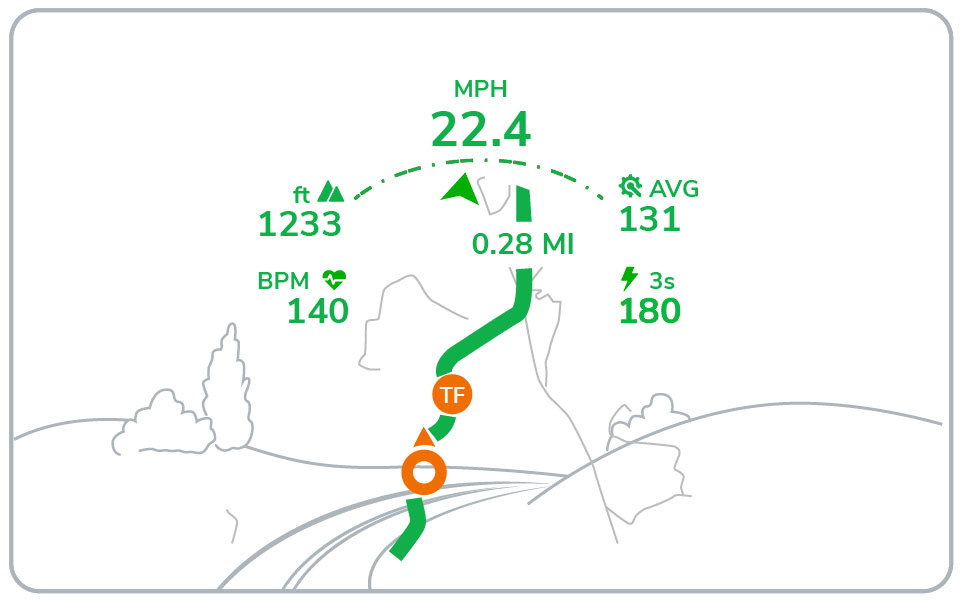 If you cannot see Live Tracking on the map, try zooming out to see more of the area
- To open the Zoom Menu, tap on the touchpad which opens the Lap/Zoom menu.
- Swipe forward to zoom in, swipe backwards to zoom out